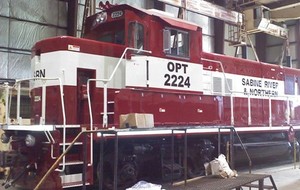 Lone Star Locomotive Repair LLC.
804 Mahan Street
Port Lavaca, Texas 77979
361-578-6883 Office
361-578-8282 Fax
We repair a wide range of locomotives with highly skilled mechanics.
Located in South Texas we travel to all parts of the US.
Available 24/ 7 and will come to your site.
No job to big or to small.
All types units from EMD switch engines from the 1950s to Genset units of today.
Wheel and traction motor replacements.
Electrical troubleshooting and rewires.
Air brake systems all types; 6NL, 24RL, 26NL, 26L.
Main and Aux generator replacements.
Wheel reprofiles at your site.
Replace power asys and engine troubleshooting.